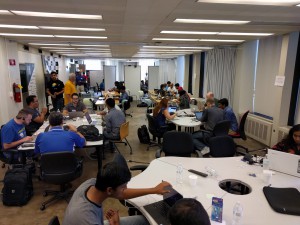 As part of TADHack Global 2017's first weekend, I attended the Chicago location run by the IIT RTC Labs. Chicago has been part of TADHack since its founding in 2014. Each year it gets bigger and better. The themes I took from Chicago this year are a stronger focus on community and humanitarian problems; and more teams demonstrating scaling their hacks so hacks are now becoming deployment ready. Programmable telecoms continues to democratize telecoms so not only is the time from idea to prototype massively compressed, the time from prototype to deployment is now equally short. We're on the cusp of programmable telecoms revolutionizing telecoms as we know it, not just nibbling away at the edges.
But back to the hacks. Anyone whose been part of a TADHack knows its an intense experience of highs and lows. The high of having an agreed concept, solving a problem that matters to the team and that 'will be so cool.' The low of realizing the massive effort for a MVP (Minimal Viable Product (hack)) in the next 24 hours. The high of getting to a core architecture and identifying the necessary modules to show the proof of concept. The lows as modules do not work, team members go MIA, integrations do not work, and 'we don't have a pitch ready and its only 30 mins left!' But through all those highs and lows; the challenges both technical, organizational and emotional; viable solutions are created to real problems. Its an amazing testament to everyone who takes part in TADHack.
TADHack Chicago had examples of all of the above and more. We had mostly first-time winners at TADHack Chicago and an old-hand team that just knocked it out of the park. That's the great thing with TADHack, its not a winner takes all event. 40% of the teams taking part won, most of them were first-time winners. We had teams from the Illinois Institute of Technology, The University of Illinois at Chicago, local developers, business people and entrepreneurs. It was great to see such diversity.
We'll have lots more location reviews coming, I'll be doing an overall TADHack review next week after the second weekend of TADHack, and we'll be reviewing hacks from all locations in the coming months.
To everyone who took part, especially those who did not win this time. Being a TADHack winner is just someone's opinion. Its the market that decides if your idea is great.  If you believe in your idea, make it happen, and let the market decide. Ruwan from Extrogene (one of the keynotes this year) was a runner up, but he made his idea a commercial success. Please learn from TADHack, and come back next year to hopefully win.
Now onto a quick summary of TADHack Chicago.
The hack "AI Phone Secretary" used Telestax and was by Bharat Ramaswamy Nandakumar. It is an application that works as a personal secretary. Bharat is a hard core hacker, overnight he created this and after 2 nights of no sleep (first night of no sleep was a bachelor party not TADHack) we let him record this pitch early and get some sleep.
Helpr used Apifonica by Dan Morgan. Its a supplemental application for a RedCross-like organization that uses a NLP (Natural Language Processing) processor to prioritize help and optimize rescue using SMS. Dan did a great job and is still in the running for a global prize.
iAttendant used Temasys, Telestax and Alexa, by Iqra, Alex, Francisco and Alberto. Their hack integrates the benefits of online and in-store shopping with the use of Alexa commands and communication to employees to bring clothes in a changing room. Sorry Chip, Vidyo sneaked their t-shirts into the changing room. They could not get the the hack working, but their pitch is excellent and they're still in the running for a global prize.
Project Sapphire Network used Telnyx by Pratik, Lucas Zhang, and Yani. It allow small businesses to manage inbound/outbound numbers through a mobile application without spending money on additional telephony hardware like VoIP phones. They won Telnyx location prize. One aspect that impressed the judges is they did market research of local businesses during the hackathon, and are hungry to make this a real service,
Eclipse used Matrix by Thuy Ngo, Jasmine Omeke, Chantel Sims, and Mayuresh Jakhotia. It is an encrypted social network to help hackers and those concerned about security communicate with others in a safe environment. A great application of Matrix. They suffered from team member availability. Nonetheless Thuy did a great job presenting. Well done and better luck next time, as your experiences here will help you the next time.
Virgil used Telestax, Telnyx and Phaxio by Alex Cordover and Alberto Rios. An emergency management decision support platform that uses statistical methods/machine learning, the Social Vulnerability Index, and real time communications information to help emergency managers and personnel make the best possible decisions. They are previous TADHack winners, produced an first class hack, and won Telnyx, Phaxio and the Location (IIT RTC Labs) prizes.
waitLESS used Apifonica and Phaxio by Omar Salka, Amaan Baiyat, Omar Husseen, and Pankaj. Its a platform that allows patients to get SMS alerts regarding waiting times at different clinics and submit their forms.
Inform Me+ used Telestax by Anthony Hicks, Daniel Lopez, Junfeng Wang, Junjie Ying, Alejandro Gomez. It send text messages in an area and receive by categories (emergency, social, advertisement). Solid hack and still in the running for a global prize.
AICollab used Telnyx, Phaxio, vidyo by Abhishek Bhardwaj. Its a deep learning Github for Doctors. He won the Telnyx and Location (IIT RTC Labs) prizes.
Irma used Telestax and Phaxio, by Prajwal Sreenivas and Ashutosh Gowda. Its a disaster relief food distribution system. They won the Phaxio and Location (IIT RTC Labs) prizes.
Congratulations to everyone who took part. Creating a hack on a new technology over just 24 hours is an impressive achievement. The winners will be presenting at the IIT RTC Conference today between 3-4PM, to global technology and business leaders in the RTC (Real Time Communications) industry.