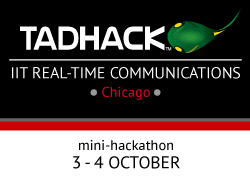 For those attending in person: the location is The Idea Shop, University Technology Park, Illinois Institute of Technology, 3440 South Dearborn Street, Chicago, IL 60616.
We start at about 10AM, you can come earlier if you like, people should be there setting-up by 9AM.
Once you arrive pick up a name badge, grab a coffee or tea, then go to the sponsors' tables, sit down and have a chat. There's no presentations, all the resources are online anyway, scroll down on the TADHack-mini website to see the resources.  We're forced to listen to many really boring presentations during the week. A weekend should be a chance to learn by chatting face to face, its so much more fun to learn and get to know someone.
We have an amazing line-up of sponsors, you'll be able to meet the people who built the platforms you're hacking on. There are no hyped-up evangelists wandering about in strange attire. Its just a group of developers spending a weekend making new friends and creating some cool hacks.
The agenda for the two days is on the TADHack-mini Chicago website, 10AM is start on both days. The critical time is on Sunday between 2-4PM for the pitches.
The format of the pitch (and this applies to the remote hacks as well) is:
5 minutes maximum, this is a strict limit.
Introduce the team (and team name if you have one)
Introduce the hack name or brief description
List the sponsor's resources used in the hack (which sponsors should judge your hack)
Explain the hack, can be done through a simple presentation / demo / a little acting, whatever the team wants to do.
For the remote entries, we have about 5 teams planning to enter remotely, please send your pitch video through by close of day 3rd October (Saturday) to info@tadhack.com by wetransfer. And as a back-up if you could also upload your video to YouTube – this will ensure the video will be played no matter what happens. Also please send an email to info@tadhack.com with the wetransfer URL, YouTube URL and details contained in your video so we get your entry judged by the right sponsors and we have all your information correct:
Wetransfer URL, YouTube URL
The team name and members (this can just be your name)
Hack / Showcase name and a brief description
List the sponsor's resources used in the hack (which sponsors should judge your hack)
For the judges Q&A with the remote pitches, we'll either use Skype or Google Hangouts after your pitch has played. If your timezone makes being involved in real-time inconvenient, let us know and we'll make sure the relevant judges chat with you on Sunday morning (Chicago time).
DON'T FORGET we have $8k prize money available, each sponsor has $1k prize (or endoskeleton kit equivalent) they will decide how to allocate.
And thank you to all the sponsors for making TADHack-mini Chicago possible: