TADHack-mini Chicago ran over the weekend of the 3-4 October, just before the RTC Conference. We had 50 people involved with diverse backgrounds from of course IIT (Illinois Institute of Technology) students; through people in finance, manufacturing, and supply; many of which were not hard-core coders. TADHacks really are for everyone. In reverse alphabetical order of sponsor prize:
Truphone: Hack 'OhNoo' by Alex Maties using resources from Tropo and Flowroute. Helping coworkers better respond to emergencies. Alex's wife and young daughter were in the audience. He had some last minute problems which meant reshuffling the order of pitches. But in the end he won! He had an emergency at his work place on Wednesday, thinking there must be a solution to such problems in a web search he discovered WebRTC that lead him to TADHack Chicago that weekend. Thinking this was providence he registered for TADHack Chicago and won 🙂
Tropo: Hack 'Call Assist' by Price Shoemaker using Tropo resources, is a  conference call service which creates action items, meetings, and file references based on call content. Before the pitches Price decided not to pitch as not all the aspects of his hack were working. Adam Kalsey from Tropo persuaded him otherwise, and he ended up winning!
Telestax:  Team 'Vivo' of Nestor Bermudez and Arin Sime used Matrix, Tropo, and Telestax to create an Apple Watch app to notify loved ones when you are having a heart attack. The demo worked, and they provided the analysis of the massive potential from such an application. A great pitch and it couldn't happen to a nicer team 🙂 You can read Arin's weblog on their hack here.
Matrix: Team 'ProbatioNerds' of Adnan Baleh, Caterina Lazaro, Javier Garcia, Ernesto G. Grabwosky, Sergio Gil and Marion Le Callonnec share custody of the  Trossen Robotics HROS1 Humanoid Endoskeleton using a Matrix Mobile app to control the robot through WiFi/Internet. The robot danced the Macarena, how cool is that!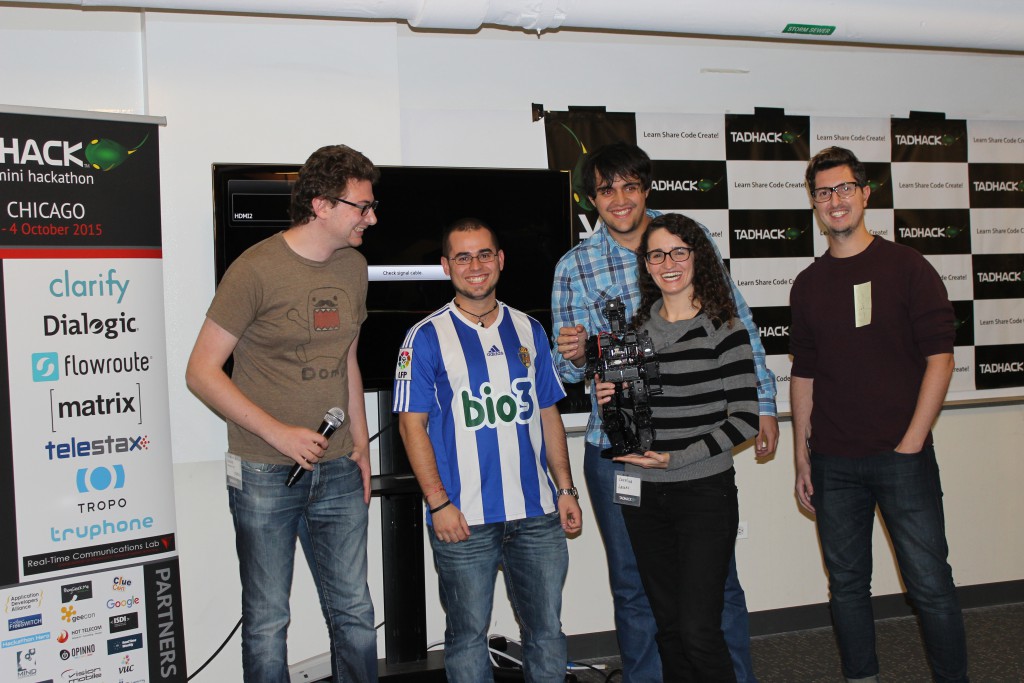 IIT RTC Labs: Hack 'NGPSAP Map Integration' by Chaz Granholm, Seth Carpenter, and Bharat using Dialogic, Telestax and IIT RTC Labs NG911 resources for NGPSAP Map Integration.

Flowroute: Hack 'Samaritan' by Charles Solar and Jiang Shuyang used Matrix and Flowroute resources, for a platform independent app which allows users to post requests for help "I got a flat tire!"" or "My computer crashed!" and allows others to call / text / video chat with them to solve their problem. Requests are based on a location are only broadcast to users in the same area, quick one click button for emergencies. This is our second husband and wife team to win a prize after Rent Reminder by Selin and Lee at TADHack Melbourne in June 🙂
Dialogic, choose 2 winners:
Hack 'Project Hermes' by team 'Watney' of Corey Wysong, Luis Villaseñor Muñoz, James Kinney, and Mark Grady, using resources from Dialogic and Tropo to create an IMS message center.
Hack 'Unity Game with WebRTC' by Andrey Zakharchenko using resources from Dialogic and FlowRoute, for in-game and out-of-game chat.
Clarify: Hack 'Guber Conference' by Thomas Howe used the resources of Tropo and Clarify to demonstrated the reality of hypervoice.
We'll also have the winners blog about their hacks, and a weblog of weblogs about TADHack Chicago. A big thank you to everyone who took part, especially the runners up who had honorable mentions, it was an intense and amazing weekend. And a special thanks to Trossen Robotics for providing the demo HROS1 to hack on and all the other robots to play with on Saturday.