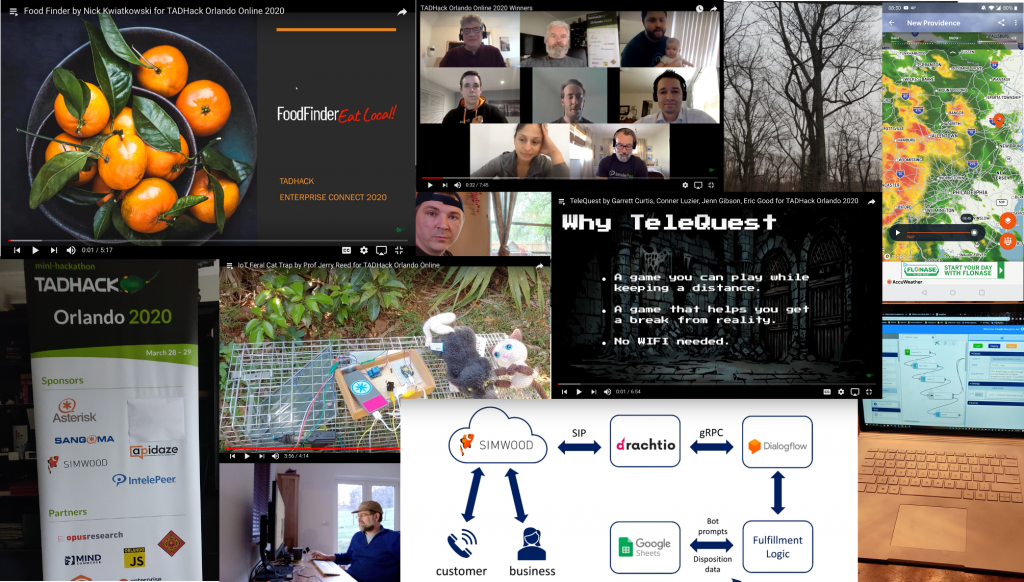 Over the past 7 years we've run 17 TADHack events across 100+ locations and received hundreds of remote / online entries. TADHack Orlando Online this weekend got me thinking, given the amazing results produced.
The quality and breadth of the hacks was better than ever. Chad Hart who took part this year after a break of several years with SMB reschedule using Simwood, commented on the quality being far greater than he remembered.
The quality improvement reflects a couple of developments:
the programmable communications stacks are maturing, making them easier to mash-up;
the heady days of developer marketing have passed into a more honest cooperation of joint learning, networking, and business development. And in my opinion most importantly bringing new blood in the ecosystem, programmable communications / telecoms has too high a gray haired old man ratio (yes I am one of them).
We managed to run a fully remote (online) event this weekend. A comment from some hackers, and I experienced it too, is hacking from home over a weekend is not really viewed as being truly busy by the family. Which can make it hard to get stuff done.
As social distancing restrictions lift in time, hybrid (both in-person and remote) will be the default approach for TADHack so people can choose what's right for them. This is true for WFH (Work From Home) in general, its not everyone's cup-of-tea. Also ignore most of the WFH advice out there, it's wrong from my perspective given my 20 years of WFH. My only general piece of advice to the newbs is try to avoid snacking, keep to meal times, and get lots of exercise, else weight-gain will happen.
Over half the hacks included intelligent agents, generally using Google Dialogflow, which is now just part of the programmable communications stack. Asterisk (open source TAS for processing calls) was mashed-up with Simwood (telco making the calls and messaging happen), as well as Apidaze and Intelepeer (both CPaaS). It's a software stack web-centric developers understand, and can mash-up and build upon to solve problems important to them. Check out the pitches, as well as the slides to see the complex stacks built in about 24 hours over one weekend.
By letting developers work on what matters to them we had a good diversity of hacks:
To the Enterprise Connect Virtual audience, copy what Avaya did earlier this year with TADHack Phoenix. Bring your ecosystem together with a healthy dose of web / non-telecom developers. Get them hacking on your platforms, solving problems that matter to them, not you. You'll not find your killer app, they don't exist. But you will set your business and ecosystem on a trajectory to better serve your customers.
Programmable communications is evolving, the stack is getting easier to use by many more people. Programmable comms hackathons have become an honest cooperation of joint learning, networking, business development, and bringing vital new blood into the industry. Its all about building sustainable businesses together, not evangelist BS!