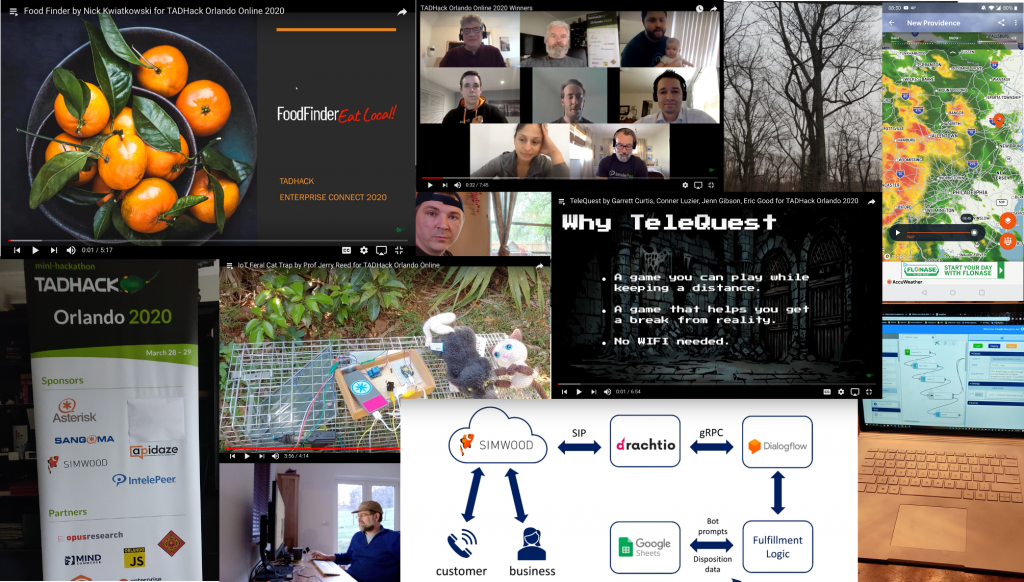 Firstly, thank you to everyone who took part and supported TADHack Orlando online. I know many were busy because of the current situation helping customers, businesses, friends, neighbors and family manage the transition to WFH (Work From Home). Especially with everything that breaks now people are no longer in the office, "But it worked last week…" – well last week you were in the office.
Thank you to the sponsors for demonstrating your commitment to developers and programmable communications in not pulling out and providing excellent online support throughout. Namely IntelePeer, Sangoma (their technologies: Apidaze (VoIP Innovations) and Asterisk) and Simwood.
Here are all the hacks including slides and Github links.
Covid Advisor (Vincent Tang, Chris Woodle, Muntaser Syed)
Based in Intelepeer, text a phone number, get back a response of # of deaths / cases on Covid in your county/state, and predicted cases in 30 days. Uses machine learning.
IoT Feral Cat Trap (Professor Jerry Reed)
Send an SMS message via Apidaze api to spring the trap and check the occupancy. Data flow is SMS->Node.js web hook server (hosted on Digital Ocean Droplet) ->Particle API ->Particle Photon->relay and sensor. Send an SMS message to spring or to inquire about current occupancy of trap. What I love about this hack is its code and the real world – no need for slides.
Jarvis Phone Assistant (Giancarlos Toro, German Gamboa, Mike Groff, Hunter Henry) – Apidaze $500
Interactive voice assistant to answer phone calls and screen spam callers. We used Intelepeer to manager the call process, then Apidaze and Simwood to send texts to the receiver of the call.
TeleQuest (Garrett Curtis, Conner Luzier, Jenn Gibson, Eric Good) – Apidaze $200 & Intelepeer $250.
TeleQuest is a phone-based adventure game, perfect to keep your social distance while connecting with others. Uses Apidaze and Intelepeer.
Home School Helper (Mike Cairns) – Apidaze $300 & Intelepeer $250.
Due to COVID-19 many parents are learning how hard of a job their teachers have. HomeSchool Helper is a voice and messaging application designed to create and maintain a calendar using chatbots and voice interfaces. It then interfaces with NodeRed for sending local notifications to Google Home for reminders to do assignments, take tests, or attend a lecture without the parents having to run around and coordinate. It allows older kids to receive text messages of assignments and all family assignments are written to a shared google calendar for ease of use for parents. Uses all the sponsors.
Tell Alexa to have my friends call me (Koushik Chatterjee)
This app allows you to quickly ask Alexa via your voice to SMS and call your friends on your behalf using Intelepeer. You friends will get your messages and conference calls so that those who are free will message and talk to you right away. Quickly find a friend to talk to and avoid being alone during social distancing!
TeleDoom (Matt Williams) – Asterisk $250
TeleDoom allows you to play Doom in the manner of early-90s Saturday morning children's TV – by phoning up and pressing numbers on your phone's keypad. It uses Simwood to route numbers into Asterisk and to send SMSs, and it uses Asterisk ARI for the TUI and DTMF collection. Call +44 113 403 7093 to give it a try!
Node-Red Asterisk (Sam Machin) – Asterisk $250
The Hack itself is something I've been wanting to work on for a while, I'm doing quite a bit at work now with Low Code tools to enable non-developers to create stuff on our platforms, one of the more heavyweight tools I've been working with is NodeRED (https://nodered.org) which is an opensource product that started life inside IBM and now lives with the JS Foundation. Originally conceived for IoT its grown to be very good for any kind of real-time event driven applications, like programmable comms! So I've built a package for NodeRED to interface with Asterisk via ARI, at the moment it just has the basics to receive a call, playback media files and hangup, but now I've got the framework I should be able to add more functionality like DTMF, Bridging, Outbound dialing etc.
Eventually I'd like it to get to the stage where it could be a visual interface for setting up asterisk.
The main sponsor tech I used was Asterisk, its been a while since I did much with it and so there was a bit of a learning curve to get up to speed with all the changes, I'm using the node-ari-client library within my package to interface to asterisk.
I also setup a Simwood trunk to asterisk but I've not managed to utilize that yet as I didn't get as far as building the outbound nodes yet.
Food Finder – Eat Local (Nick Kwiatkowski) – Asterisk $500 & Intelepeer $500
Food Finder is an application that helps restaurants and customers connect with each other during the Corona Virus. Right now, many local restaurants have shut down, and many others have pivoted to carryout and delivery only. The service allows consumers to call in to an "Alexa like" system, or view a webpage to search for restaurants that are currently open. Additionally, a back-end system calls restaurants on a regular basis to allow them to update their availability and services.
Sponsors Service's Used:
Asterisk. Terminated a phone line to the Asterisk PBX and build connectors to Google Dialog Flow for AI based IVR responses for customers.
APIDaze. Built the website with WebRTC components to allow customers to call restaurants without having to use a traditional phone. Also registered a IP Telephone to APIDaze's system to allow for fallback in case automated systems failed.
Intelepeer – Used the Atmosphere Smart Flow system to build an IVR to call restaurants to validate database. Smart Flow uses speech recognition so that people at the restaurants can answer simple questions with their voice.
SMB Reschedule (Chad Hart & Dave Horton) – Simwood $1000
Help SMB's reschedule appointments with their customers using conversational AI. Businesses just need to use a Google calendar and sheet to input their information, and SMB Reschedule will auto-dial customers and a virtual agent will reschedule their appointments. This hack uses Simwood phone numbers, SIP trunks, and webhooks to plug into a Dialogflow bot via Drachtio – an open source SIP server and Dialogflow gateway.
WHO CORONAVIRUS FAQ BOT (Miko Aro)
CORONAVIRUS FAQ BOT FOR PROVIDING ACCURATE INFORMATION TO THE PEOPLE USING INTELEPEER SMARTFLOW AND GOOGLE DIALOGFLOW
—————————-
Today the world is facing one of the biggest challenges, Corona Virus, as of right now 600K confirmed cases, and spreading quickly & exponentially.
Hospitals are collapsing because of the overwhelming request of medical services related to this pandemic, and this are also some problems I found:
1. Healthy individuals with lack of knowledge and inaccurate information unnecessarily going to the hospital with the risk of being exposed to the virus.
2. Waiting times prolonged for people that need the immediate attention .
3. Hospitals Exceeding their capacity & resources with non-emergency cases.
That is why I provided the CORONAVIRUS FAQ BOT, a virtual assistant for providing accurate information and resources using IntelePeer CPaaS, Google Dialogflow, World Health Organization (WHO) knowledge bases."
Jambu Atchison was working on a hack that asked a series of questions to help you determine if you are at high risk for being infected by COVID-19 and will provide information about the next steps for testing and self-treatment. Here is the website is created: https://tadhack2020.voipawesome.com/.
Rob Pickering produced a hack called ConnectMe using Simwood and Asterisk. Connecting individuals to mutual aid groups by phone.
You can see all the impressive pitches in the TADHack Orlando 2020 Pitches playlist.