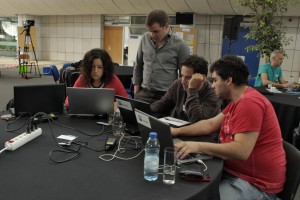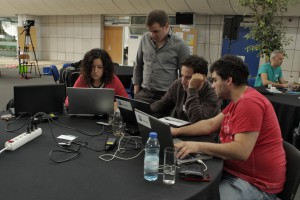 TADHack Global 2015 ran on 13-14 June across 15 locations (including remote). Its focus is helping developers discover the power of adding telecom capabilities to their apps, services and business processes. We're going to see several of the hacks created going live for customers in the coming months, that will be for another weblog. This weblog provides a guide through the massive volume of content created over one weekend.
Content Guide
Global Winners
Location Winners
All the videos
Global Keynotes
Welcome Address
Trends
Rise of on demand services, such as eCarry from Sri Lanka.
Rise of mash-ups across APIs, across real/virtual, with much more hardware being played with, e.g. Intel Edison boards and in Sri Lanka the Orange-Electric M2M box.
Rise of open cross functional ecosystems, its about people not corporations collaborating.
More IT people who have never seen a Telco API or WebRTC before, and liking what they can do with them.
Lots of WebRTC hacks, mashing up with lots of web resources.
Practical IoT, where the benefit / application is clear
Rise of innovation, beyond the Bay Area BS machine.
By the numbers
1400 registrations
800+ attendees
90+ hacks across 14 locations + remote
Prizes

$33k in cash prizes
1 Oculus Rift dev kit
2 drones
3 Apple watches
5 * 12 months free TV subscription
5 * 12 months free 4G subscription
2 * Tessel bag of goodies (1k value each)

88 winners
YouTube: Within the first 2 days after the event, 8500 mins & 3000 views
Where next?
More focus on helping build developer commercial success
More mashups across sponsors
More cooperation – ecosystem of ecosystems
More open data, we have some exciting plans in Poland
TADHack Chicago-mini on 3/4 October
TADSummit 17/18 November in Lisbon. TADHack delivers the innovation, and TADSummit will show how we make money with it.
TADHack Paris-mini 12/13 December
TADHack 2016 is tentatively planned for the end of Sept. We will have some exciting co-operations with universities, open data initiatives, telcos, incubators and lots more sponsors and partners.
The video interview of the TADCall team captures the spirit of our TADHack tagline: learn, share, code, create.