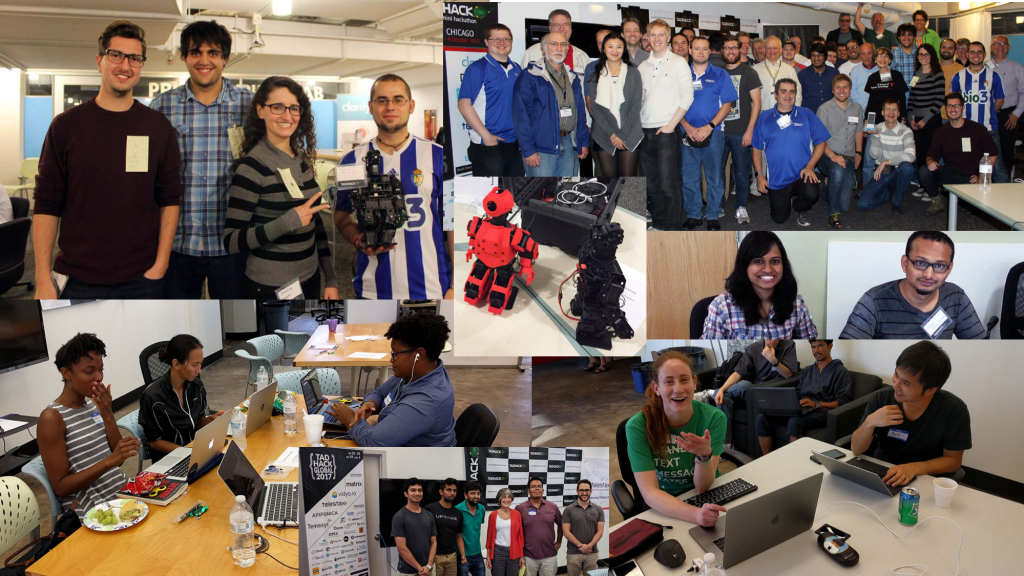 TADHack Chicago has been part of TADHack Global since the beginning. In 2014,  we thought we'd just run TADHack in Madrid, and ended up with a global event across Manila, Philippines; Kuala Lumpur, Malaysia; Colombo, Sri Lanka; Madrid, Spain; Chicago, USA; and lots of other locations around the world where people hacked from home such as Russia, Canada, India, Brazil, and Australia. And thus TADHack Global was born 🙂
For 2019 TADHack Chicago will run at the Ed Kaplan Family Institute For Innovation and Tech Entrepreneurship, the new innovation hub on the campus of Illinois Institute of Technology (IIT) in Chicago. Illinois Tech's Kaplan Institute attracts innovative and entrepreneurial students from across the campus and beyond who come to learn how to convert their creative ideas into significant and viable businesses, services, and new solutions.
The continuous support of IIT RTC Labs, and the dedication of Prof Carol Davids, Warren Bent and Tom Costello are fundamental to the continued success of TADHack Chicago.
We've been fortunate on the timing of TADHack Global over the years. TADHack Chicago winners get to present at the IIT RTC Conference on the Tuesday after the TADHack weekend to industry leaders. This year we have 2 CTOs from the FCC, Eric Burger (current CTO) and Henning Schulzrinne (ex-CTO). As well as other industry celebs such as Tony Jamous, previously President at Nexmo, the Vonage API Platform, currently investor and advisor; Thomas Howe, CTO Ten Digit Communications; Chris Wendt, Director of Technical R&D for IP Communications, Comcast; Drew Morin, Director, Federal Cyber Security Technology and Engineering Programs, T-Mobile; and Dean Bubley, he's the one who's going to be asking you questions ?
You can see all the TADHack Chicago hacks from over the years here:
The hacks include internet of things, robotics (dancing robots), emergency services, NG911, fax (yes hacks using fax), augmented reality grocery services, social support services, collaboration service ideas we're only just start to see commercially implemented. Chicago has led the way and delivered world-class hacks over the years, many of which have become real products and services.  Here are a few hacks from over the years:
Hack Grocery Go, from the team: Bill Boyd, Sachi Shirasake, Ofra Orz, Rennell Garrett. Carrefour's Augmented Reality and Telestax Customer Shopping Experience.
Team 'ProbatioNerds' of Adnan Baleh, Caterina Lazaro, Javier Garcia, Ernesto G. Grabwosky, Sergio Gil and Marion Le Callonnec share custody of the  Trossen Robotics HROS1 Humanoid Endoskeleton using a Matrix Mobile app to control the robot through WiFi/Internet. The robot danced the Macarena!
Team 'Vivo' of Nestor Bermudez and Arin Sime used Matrix, Tropo, and Telestax to create an Apple Watch app to notify loved ones when you are having a heart attack. The demo worked, and they provided the analysis of the massive potential from such an application. A great pitch and it couldn't happen to a nicer team 🙂
I look forward to seeing you on 12-13 Oct at TADHack Chicago.