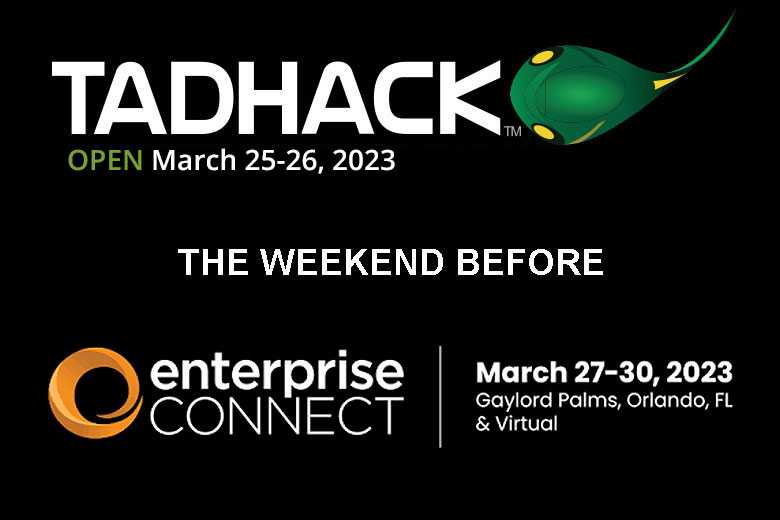 What do we mean by Open? We have stated since our founding in 2013, 'TADHack is for everyone.' The diversity of people involved in TADHack has improved over its 10 years, however, we can do more. TADHack is working with groups committed to increasing the influence that women have in building the technologies that shape our culture and change our world.
My first ask is, if you know of such groups where you live, such as Girlcode in South Africa, please let them know.
TADHack Open will help women, but not exclusively, demonstrate their vital contribution to programmable communications. Not only in building skills in important new technologies, but also demonstrating their abilities to industry leaders at the largest enterprise communications event on Tuesday 28th March, at Enterprise Connect in Orlando. 
We accept remote entries from around the world, and hope to possibly have a few satellite locations or at least regional coordination on remote entries.
Some of the benefits of involvement are:
Winning TADHack pitches will be presented at Enterprise Connect (https://enterpriseconnect.com/, running in Orlando) on Tuesday 28th. It's the largest enterprise communications event in the world with lots of senior execs from large corporations to help raise your profile and add to your resume presenting at such a prestigious event.
We'll run before TADHack Open both live and recorded training sessions on the sponsors' technologies. Sponsor Radisys is really cool as it includes a no-code GUI tool and has AI and Analytics engines hackers can use through that tool. People do not need to be coders, rather interested in technology to take part.
And of course as usual with TADHack, cash prizes and lots of promotion for everyone involved.
My second ask is please register for TADHack Open.
And my last ask is if you know of an organization that should be sponsoring TADHack Open, please let them know. We need more sponsors. Thank you.