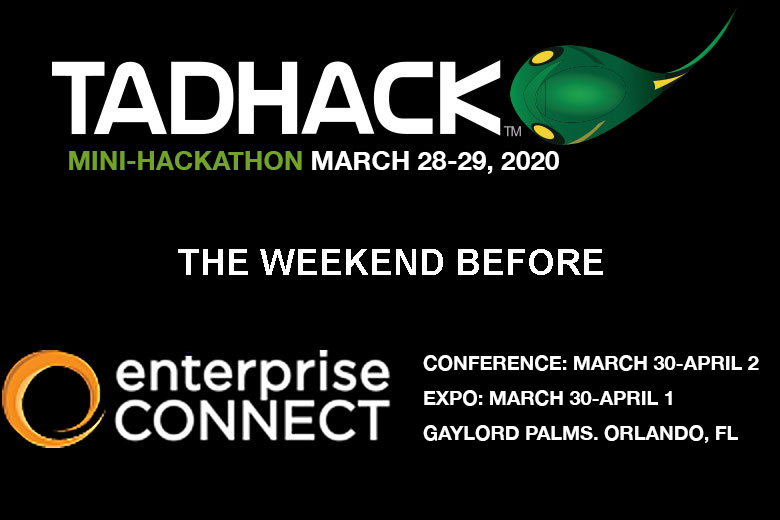 A short post just to confirm TADHack-mini Orlando will be running on the 28-29 March online only. Valencia College will now be closed until April, just found out a couple of hours ago, there will be no in-person location this year, but we will be operating online as always.
I covered the remote entry procedures in this weblog.
All sponsors will be providing online support. Just go to their resources section on the TADHack main page.
Please note Inference Solutions has just pulled out as a sponsor, so there will be no Inference Solutions prize 🙁 Please use the Simwood, Intelepeer, Asterisk, and Apidaze resources, thank you. All other sponsors are confirmed, sorry for the last minute change.
The Sponsors' Resources Briefing Session Agenda was:
1:00 Welcome from Alan Quayle, founder TADHack. Covering how TADHack-mini Orlando will work now its online only this year.
1:05 Introduction to Intelepeer's resources from Nelson and Cora, and how to get online support while hacking,
1:20 Introduction to VoIP Innovations's resources from from Joe, and how to get online support while hacking.
1:35 Introduction to Simwood's resources from Kathleen, and how to get online support while hacking,
1:50 Any other questions.
Here is the complete video, which include the Q&A from the hackers, and below are the sponsor sections.
Intelepeer Resources
VoIP Innovations Resources
Simwood Resources
You can register for TADHack-mini Orlando here.
Sign up to the TADHack Orlando chat here. We use Matrix, an open source communication platform.
Please add your photos while hacking to the TADHack Orlando 2020 Album – on the deck, beach, home, woods, lake…
Come and have a fun learning experience in programmable telecoms. I'm sure COVID-19 will be a theme of many hacks this year, let's show how the sponsors' technologies can help us through these most unusual times. Thank you.