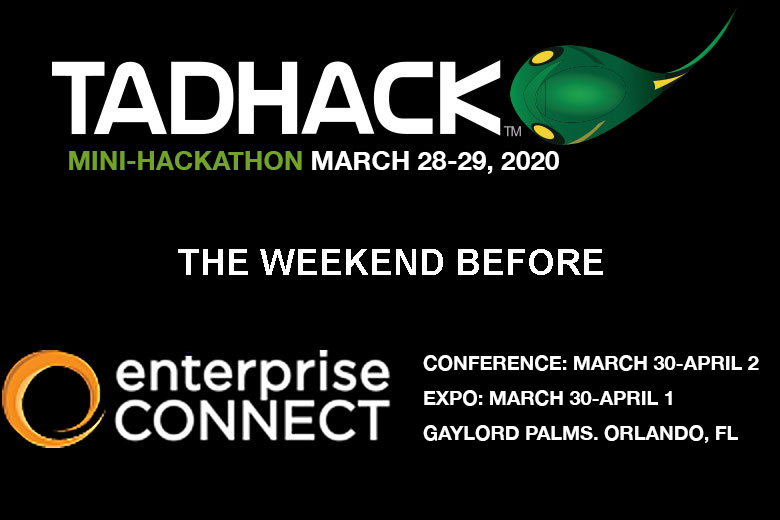 We're back in Orlando for TADHack-mini Orlando #4, the weekend before Enterprise Connect 2020! You can see what we got up to at TADHack-mini Orlando 2019, as well as 2018, and 2017.
What? It's a hackathon about using the Apidaze, Asterisk, Inference Solutions, Intelepeer, and Simwood resources to solve problems that matter to you in your work, home and community life. A focus for this year is intelligent assistants / bots.
Who? Anyone who's interested, web dev skills will help.
Why? To showcase the power of sponsors' resources, network with great people, and possibly win some of the $5k in prizes + other goodies (free access to Enterprise Connect 2020 – previous winners can tell you about all the fun stuff).
But I'm going to Code Camp! We're stretching the TADHack agenda so you can still attend Code Camp, then come over to TADHack on Saturday late afternoon / evening, and have more time on Sunday. We're going to help you have a jam-packed and very successful weekend!
But what about COVID-19? We've always accepted remote entries. So whether you're not able to make it to Orlando in-person, or you're avoiding crowds because of COVID-19, you can still take part. I'll be in Orlando looking forward to all your entries.
Go to the TADHack Orlando site to learn more about the excellent resources from Apidaze, Asterisk, Inference Solutions, Intelepeer, and Simwood.
TADHack Global Prep, 10th / 11th October, Call for Locations
We have TADHack Global planned for the weekend of October 10th / 11th (Saturday and Sunday). Website is coming soon.
TADHack Global is the largest global hackathon for 6 years straight, since the first TADHack in 2014, and 2020 will make it 7 years. You can see some of what we've achieved here: http://blog.tadhack.com/2018/11/09/reviewing-5-years-of-tadhack/.  The TADHack YouTube channel has had over 2.5k hours of viewing from 70k views.
Given COVID-19 one or two locations may run online this year rather than in-person, we'll ensure TADHack Global happens in the safest way for everyone involved. We have always accepted remote entries at TADHack, ever since our first TADHack in 2014.
In September we'll finalize the exact plans location by location. Regardless, we'll be hacking together both in-person and over the internet on the 10th and 11th October. A great demonstration of how communications enables us to JFDI regardless of the situation.
If you're interested in running a TADHack Global location whether its in-person or online please let me know.