We hope you had a fun and relaxing start to 2018 with friends and family.
We're excited to be back in Orlando for TADHack-mini Orlando 10-11 March 2018. This hackathon takes place just before Enterprise Connect 2018, the largest enterprise telecoms event on the planet.
Even if you're not lucky enough to live in Orlando or be visiting Enterprise Connect, you can still take part in TADHack-mini Orlando remotely from the comfort of your own home.
Please register here for either in-person or remote participation
We have an impressive line-up of sponsors for you to hack on including: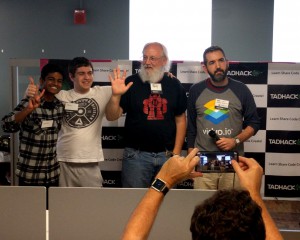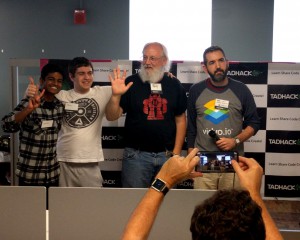 We recommend you sign-up to all their free accounts and have a play. Scroll down on the TADHack-mini Orlando page to the Developer Resources section and sign up from there (near the end of the page).
You can see what we got up to at TADHack-mini Orlando 2017 with photos, videos and weblogs. The Valencia College and UCF people had so much fun at TADHack in 2017 we're really happy to be running TADHack-mini Orlando 2018 at Valencia College West Campus Collaborative Design Center, thank you Valencia College 🙂 You can see the address and parking map on the TADHack-mini site.
Regardless of your background, TADHack is here to help you…
Get educated on the power of programmable telecoms – no coding skills necessary to attend!
Work hands-on with experts and share best practices.
Create hacks (prototypes) using telecom technologies to solve local or global problems that matter to you.
Get your innovative service / platform / idea promoted and presented to the global industry. Winners get to present their pitch at Enterprise Connect on Monday 12th March at 3PM.
Meet the global community of telecom innovators – they are really nice people, just a little bit geeky.
Learn about the programmable telecom APIs; WebRTC; communications service platforms like UCaaS (Unified Communications as a Service), CCaaS (Contact Center as a Service), UC&C Unified Communications and Collaboration); cloud communications; decentralized / distributed web; and many other web- and IT-centric service platforms
For Enterprise Connect attendees you get hands-on experience with Telecom APIs, UCaaS (Unified Communications as a Service), CCaaS (Contact Center as a Service), UC&C (Unified Communications and Collaboration), and much more. Experience first-hand what is possible. And for those not attending Enterprise Connect you get to build your portfolio of skills in programmable telecoms that will be in demand for the next decade.
Winners and runners up from TADHack-mini Orlando can pitch at Enterprise Connect for even greater exposure on 12th March at 3PM!
TADHack is all about learning, sharing, coding, creating, and most importantly having fun with a diverse group of people. And if that is not enough to entice you, we have lots of cash prizes, free entrance, and free food.
The Orlando technology and entrepreneurial communities are amazing! We're getting lots of local support:
TADHack is for Everyone, whether you're a hacker, hustler, hipster (developer, business-type, designer), or none of the above labels; TADHack-mini Orlando has something for you.