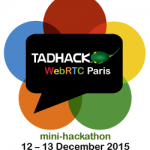 On Friday 29th January we'll have part 2 of TADHack Paris winners on #vuc578.  Erik Beijer, Vince Puglia, and Karel Bourgois will explain their hacks, share their experiences and discuss topics around telecom app development. The VoIP Users Conference is a weekly live discussion about VoIP, SIP, Asterisk and all kinds of telephony-related topics. It is hosted by Randy Resnick and runs every Friday at 1800 CET. The conference has been running weekly since March, 2007. In 2012, Google+ Hangouts were added. You can watch the latest one live or recorded on this page. Via SIP you can access on wideband g722 sip:vuc@vuc.me or call over the good old PSTN using this number +1 (646) 475-2098.
"SpeakBack" was created by Erik Beijer, Ryan Bril, Maikel Vreugde, Michael Jepson, Bas Peters, and Dion Segijn from CMTelecom. They used the resources of VoxImplant to provide video calling / conferencing. The hack is a presentation overlay enabling the audience to connect with the speaker and ask questions by mobile phone. The audience could be on-site or remote watching a live stream, this is a great way to include the complete audience. We'll be trying this out at the next TADSummit. And it also captures all the questions, as often the audience asks a question and the recording does not capture the audio only the speakers response, starting with "Great question…".
Vince Puglia was a remote entry to TADHack Paris with "just-text.us," a SMS based CRM app. Below is the pitch video, audience Q&A, and his slides. Vince used Telestax RESTComm to build a simple SMS application, a BOT, which handled most of the customer queries. And when a customer question was out of scope that it could handle, the question was forwarded to a person, likely the small business owner. We're increasingly seeing SMS becoming a default UI, as people are fatigued by too many apps, especially from businesses or services that are used infrequently. Even my local garden center has an app, I just want to know when they are open, not download yet another app to find that out. No opening times on their door, just an advert for their app, grrrr! See this TADSummit Revisited Q&A session with Thomas Howe on such BOTs.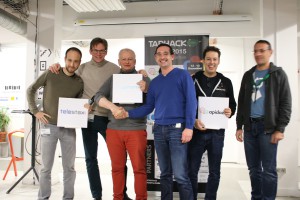 "Call ME" by Federico Cabiddu, Giacomo Vacca, Marco Barre, and Karel Bourgois. All members of the Orange Libon team, and all non-coders in their work-life. They created the hack in javascript. Telcos take note, many more of your people should be involved in TADHack. They used resources from Telestax, Apidaze, and Truphone. In 24 hours they created a service that received calls on multiple numbers including the web, and created a video-voicemail service with transcription. Telecoms is now programmable, its becoming quite easy to create new services that scale. As Sebastian Schumann showed at TADHack London in April 2015 and TADSummit in November 2015. Telcos need to break out of their silo and see what is possible today.
See you at on the VUC on Friday 29th January at 1800 CET with more amazing hacks from TADHack Paris.