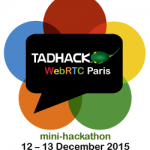 TADHack Paris ran over the weekend of the 12th and 13th December at NUMA Paris, just before the WebRTC Conference and Expo. The Hackathon focused on WebRTC as well as the sponsors' resources: Apidaze, Circuit by Unify, Telestax, Tropo, Truphone, and VoxImplant. The sponsors provide an introduction to themselves and their resources in this TADHack Paris webinar. We had close to 60 on-site, with several remote entries. NUMA was packed as you can see in the pictures below. In this weblog we list the TADHack Paris winners.
The winner of the Circuit by Unify prize of $1k was CrowdSalers by Jean-Luc Nguyen who created a Circuit module that can be plugged on any marketplace product page to allow customers to interact with other customers and product specialists via text, voice and video chat. Its used many of the Circuit API capabilities including presence, and all created in 24 hours.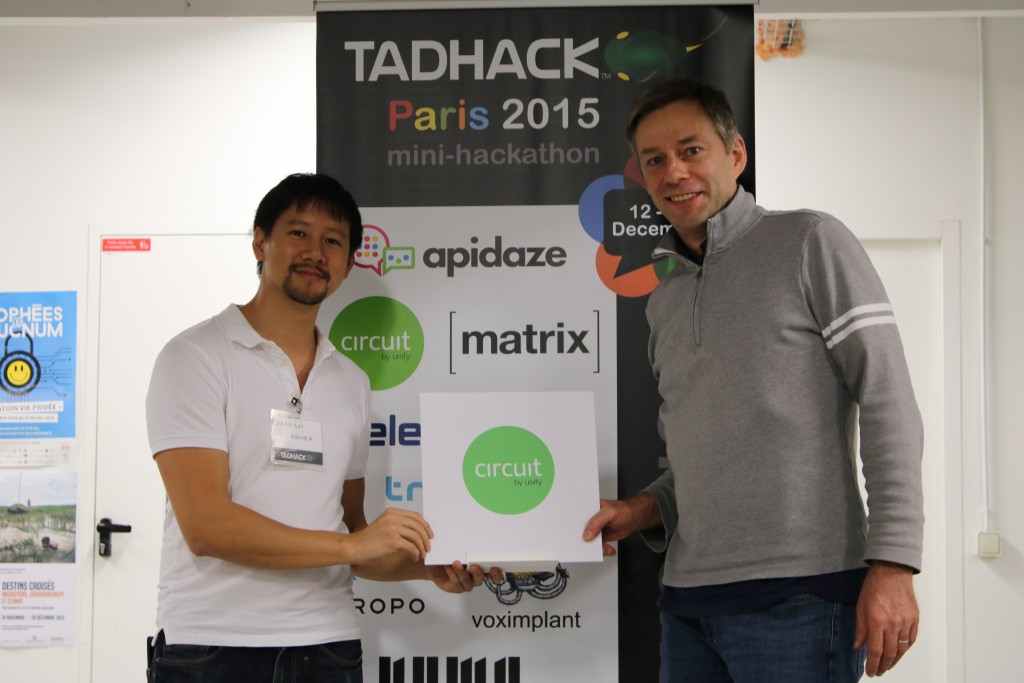 Apidaze divided their prize across 3 winners. The first winner of $500 was TADHack-plopplip by Habib BEN YAHIA, to manage appointments with WebRTC, IVR, Voicemail and SMS.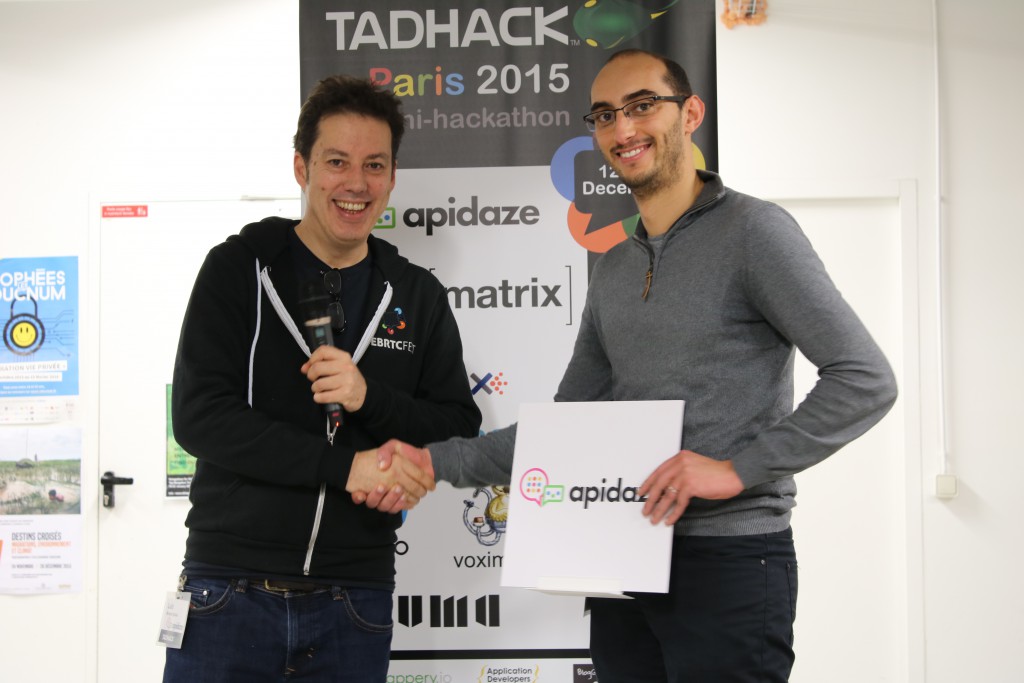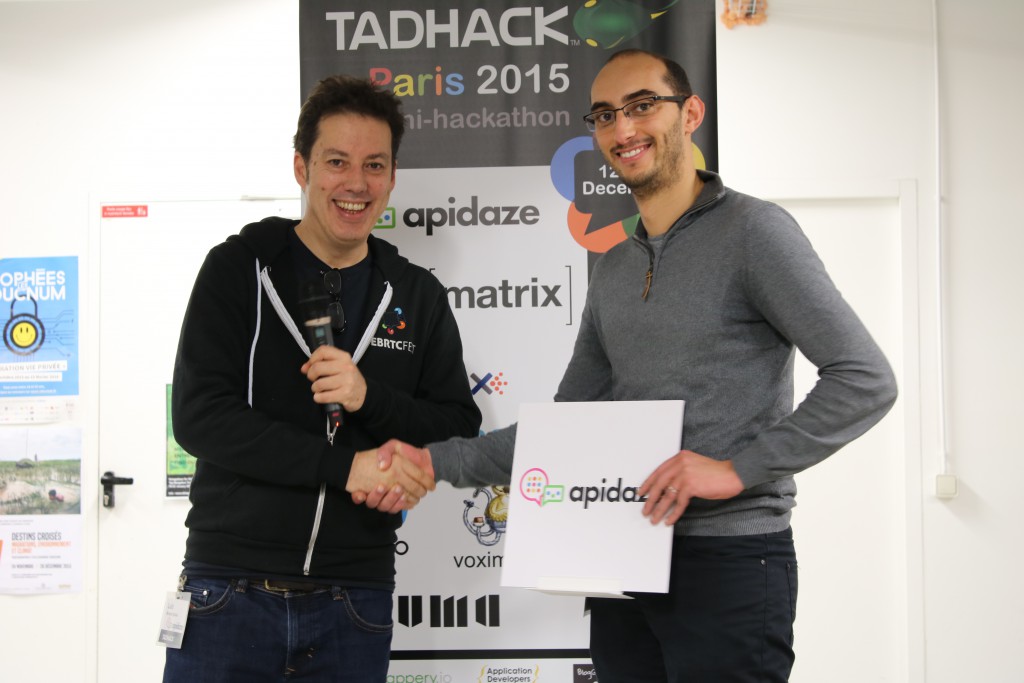 The second Apidaze winner of $250 was " Caminos del Mundo" – Triggering a Videochat from within Meteor by Bart Uelen and friends. A journey and traveling app for organizing in real time your journey's impressions like photos, text and videos and have people who stayed at home engage in your journey by joining a videochat.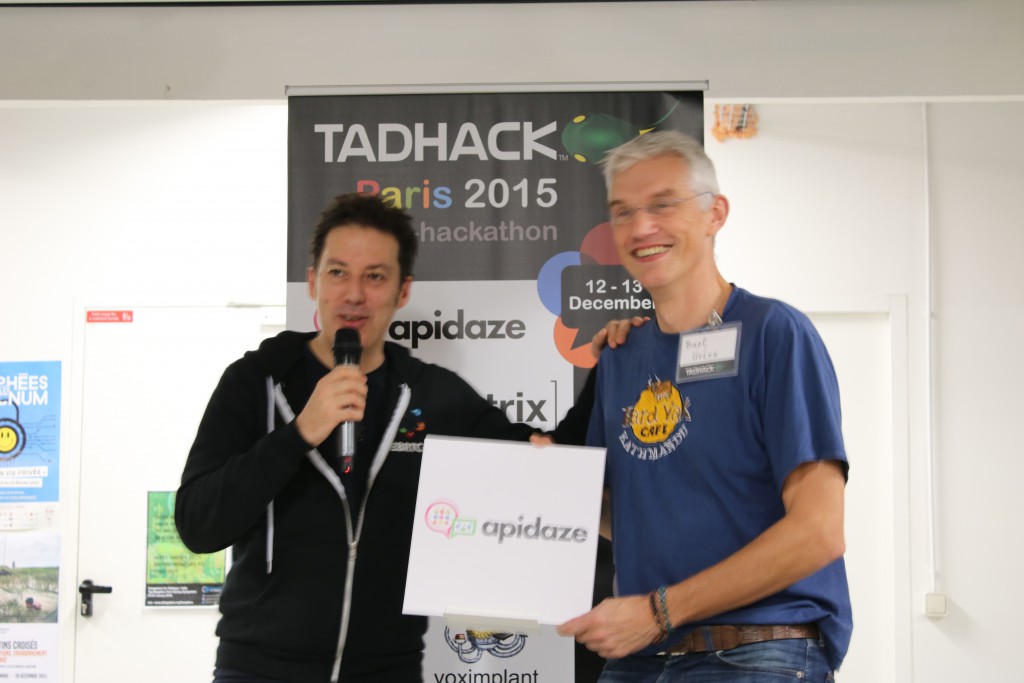 The next prize was split across 3 sponsors. The winning hack was Contact ME by Federico Cabiddu, Giacomo Vacca, Marco Barre, Karel Bourgois who used Telestax ($500), Apidaze ($250), Truphone ($250), $1k in total prize. The hack received calls on multiple numbers and via the web, and included video-voicemail with transcription. All built in 24 hours. All these guys work in Orange – they're an example to all telcos on why they must get involved in TADHack.
The second winner of a Telestax prize ($500) was "just-text.us" by Vince Puglia (remote entry) with an SMS based CRM app. So no photo just his remote hack entry – the rest of the on-site videos will come through the week.
The Tropo / Cisco Spark prize ($1k) was for the hack "Remote-Monitor" by Tim Panton that remotely monitored an IoT resource on both a smartphone and Cisco Spark (IM). Tim had the classic WiFi challenges of IoT hacks, but he debugged and got it working while presenting – impressive 🙂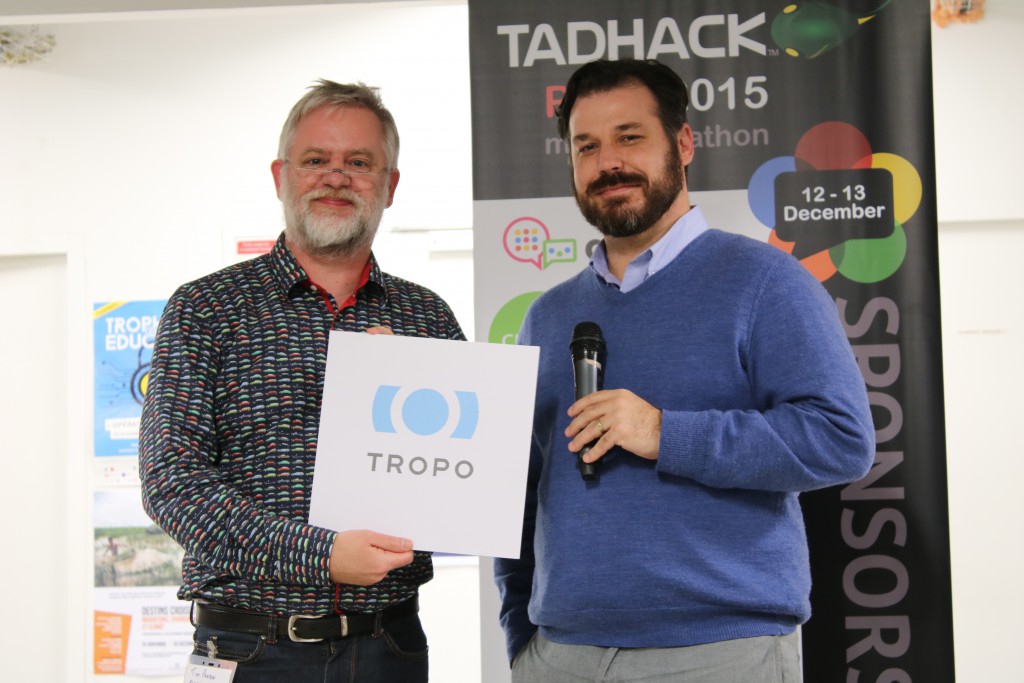 The second Truphone prize of $750 went to "Whatshack reverse to phone numbers whatspy" by Steven and Rianne using the Truphone and Apidaze resources. Through a public API they accessed the public information available in Whatsapp. They want to create awareness about critical security holes and privacy problems when there is no opt-out for the collection of user data.
And finally, the Voximplant prize went to the SpeakBack hack from Erik Beijer, Ryan Bril, Maikel Vreugde, Michael Jepson, Bas Peters, Dion Segijn (all from CM Telecom). Providing an excellent presentation overlay enabling audience to connect with the speaker and ask questions by mobile phone, so everyone can hear the question – especially those watching the recording.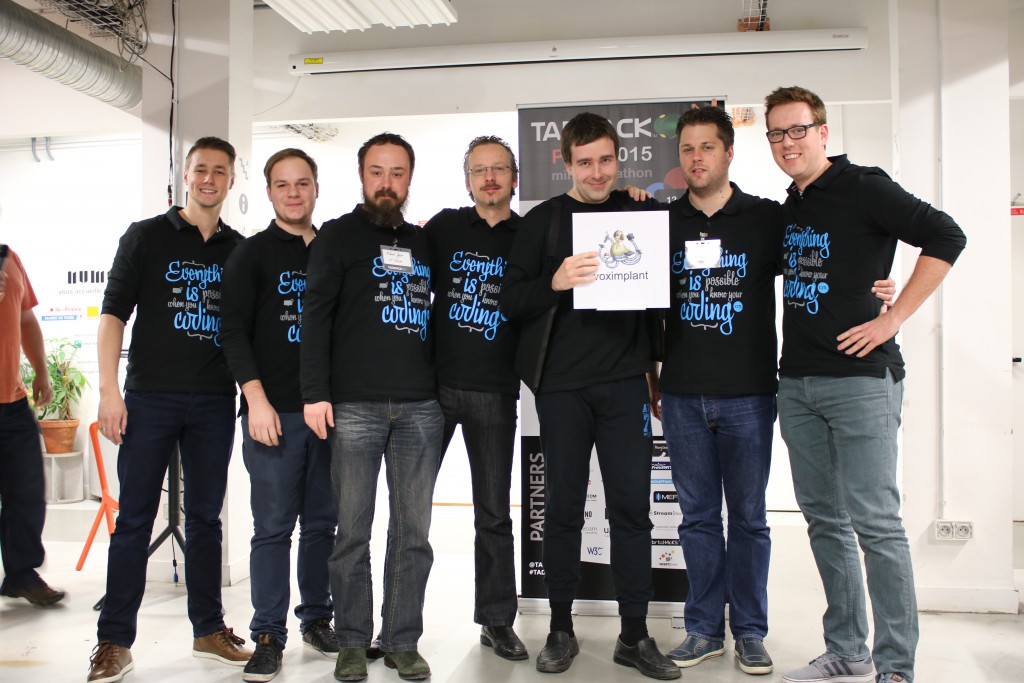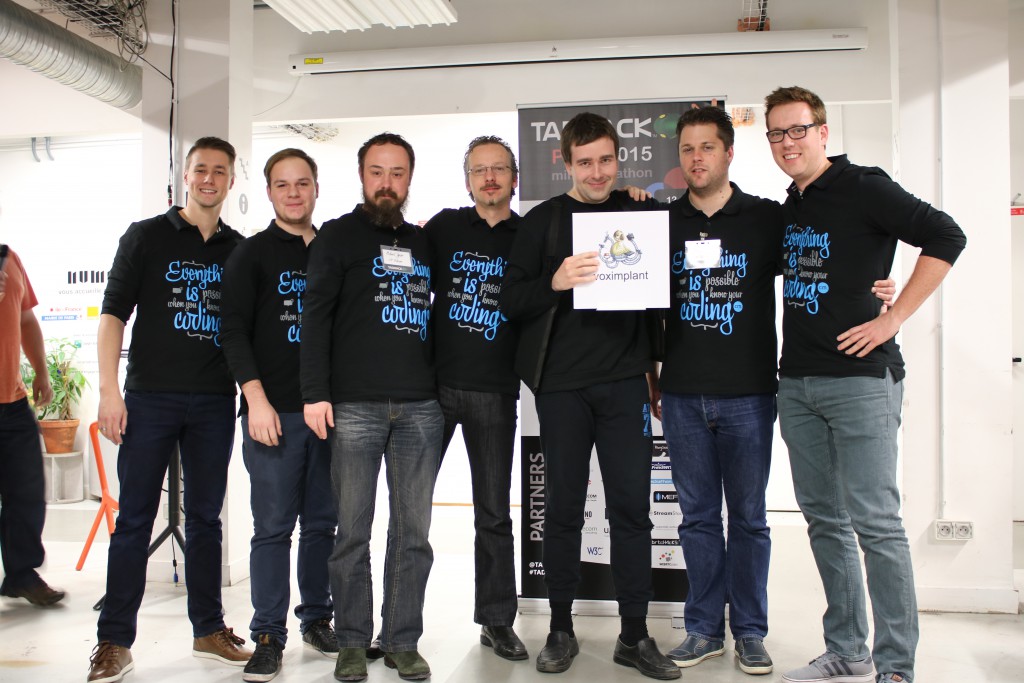 We hope to run a Paris location at TADHack Global on October 14-16 October 2016.