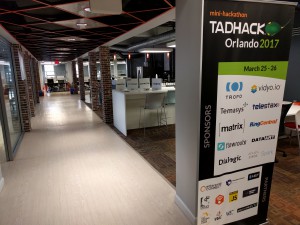 Chatting with the people taking part in TADHack-mini Orlando highlighted a few things we do at TADHack, that perhaps we need to emphasize more in explaining why we're unique and a great event for people to attend:
We bring many technologies together so you can compare, contrast, understand how they can be mashed up, and decide what is right for you. TADHack is not focused on one vendor, its focused on the whole category of telecom app development.
Yes we used the T-word, telecom is short for telecommunications which means communications over a distance. Its a vast group of technologies which are now programmable, democratized for anyone to use. Its not about your carrier; or overly complex, acronym-laden technologies. Its about connecting people with people, and people with things.
Your hack is your intellectual property (IP Rights, IPR) at TADHack, we make no claims. We hope though TADHack you're able to promote yourself, your idea or service, and get it to market. Many corporate hackathons are used to gather IPR from developers on the cheap, we do not do that.
We're open, this isn't about being the best coder, though we have some amazing coders take part. Its about your ideas and using TADHack to make part of your idea come to life using the sponsors' technologies.
We increasingly have first time hackers, who discover they love spending a weekend learning, sharing, coding and creating. Making new friends, achieving something they did not think would be possible in just one weekend, and bringing that intense experience back into their everyday life. I know I say this too often, but TADHack is for Everyone.
We share the love, we offer significant cash prizes. We had in total for TADHack-mini Orlando $11.5k, as RingCentral brought an additional $3.3k to the table, and Temasys brought an addition $200. Bringing a Millennium Falcon drone back home, while cool, isn't something you can easily share with your family. While cash is easy to share, like a meal with your partner who was looking after the kids that weekend, or a gift for a loved one that had a weekend mainly on their own.
We promote the people who take part. Many hackathons are ephemeral, there are some tweets. Perhaps a blog post, but its all focused on the sponsor, not the people taking part. At TADHack we stream the event live, we also record the event, edit the pitches up to create content that you can use, for example on your resume or Linkedin profile.
We're friendly, I know this may sound a little odd, but it is important to make people feel comfortable. Coming to an event, where there is no one you know is daunting. Here is a quote from one of the winners from TADHack-mini Orlando, " I wanted to thank you again for organizing this event. I really enjoyed it and I felt very comfortable being there. "
Now back to reviewing the hacks. We quickly listed out the winners in this weblog. Here I go into a little more depth on some of the hacks. Sharing the slides, and highlighting some of the important aspects of what was achieved.
I'll kick off with Genesis Barrios with her hack "Two Player Hangman with an audio call". This was Genesis's first hackathon and her first experience using Javascript and WebRTC (thanks to sponsor Temasys). She spent a weekend learning from experts and got lots of hands-on experience, right up to a few minutes before her pitch. Having a pitch to give on Sunday afternoon really does focus the mind. You're not learning for the sake of learning, you're learning as you have to get an idea working and present it! Its an intense learning experience that stays with you, long after the weekend. TADHack is the most intense and fun learning experience you will have in telecoms!
Thomas Howe is an amazing technologist, and all-round nice guy. His pitch and slides are shown below. He took part in the first ever TADHack in June 2014, that hack was using SMS to help refuges. For Orlando he showed a hack on Flowroute to help people access legal aid using messaging. A far cheaper option for anyone on a prepaid phone plan, rather than waiting on a line being charged by the minute. We had Erin from Code for Orlando who helped focus some of the hacks on impacting local issues facing some communities in Orlando. Thomas's hack clearly explained the challenges some communities have in accessing legal aid. And showed how something as simple as texting can help solve that problem.
Justin Haefner with his hack Elder Connected Care, solved a real problem Justin has in his life. Organizing family and friends who are helping care for elder health needs along with the ability to add in ad-hoc a nurse for consultation. Justin works for Medtronic, and over the weekend achieved a great hack and learned a lot about the RingCentral platform. We hope Justin's experience will encourage many more Enterprise Connect attendees to spend an extra couple of days to learn firsthand about what is on show at the conference, and really what's under the cover not the marketing gloss. He got to understand an important technology in detail, and can take that knowledge back to his work. And more importantly showed how a problem faced by many people with elderly parents can be solved using programmable telecoms.
Utku Yavuz and Janet Garcia created the hack Translator Bot. A translator bot for a Cisco Spark room. This hack was solving a real problem Utku faces in his day-to-day work. His bank has recently merged with a Spanish bank so he now works across many languages. He was attending Enterprise Connect, and TADHack enabled him to get a deep understanding of Cisco Spark. And show how it can solve a problem he's facing in his work. I'm sure this will become one of Utku's work projects 🙂 Utku had taken part in TADHack Global last year, it was great he could join us in person.
Scott Barstow created an interesting hack "Remote Lex" using Telestax and Amazon Lex. Amazon Lex is a service for building conversational interfaces into any application using voice and text. Lex provides the advanced deep learning functionalities of automatic speech recognition (ASR) for converting speech to text, and natural language understanding (NLU) to recognize the intent of the text, to enable you to build applications with highly engaging user experiences and lifelike conversational interactions. With Amazon Lex, the same deep learning technologies that power Amazon Alexa are now available to any developer, enabling you to quickly and easily build sophisticated, natural language, conversational bots ("chatbots"). Scott's hack is a great example of how powerful Lex is becoming. I'm sure we're going to see Amazon Lex pop-up much more this year in TADHack Global hacks.
You can see all the TADHack-mini Orlando videos here.
This weblog reviews the winners from TADHack-mini Orlando.
Thank you to all our sponsors: Cisco Spark / Tropo, Flowroute, Matrix, Ring Central, Telestax with partners DataArt and Dialogic, Temasys, Vidyo.io.
The Orlando technology and entrepreneurial communities are amazing, we received lots of local support:
See you at TADHack Global, we'll be launching registration soon. We finally updated the site to HTTPS, so registration will be secure.